Learn to make an indulgent and familiar Homemade Biscoff Ice Cream with our recipe and step-by-step guide.
If you didn't know, Biscoff is an acronym for Biscuit and Coffee, as these biscuits are generally served with coffee and I can recall on many occasions having a packet of these biscuits served alongside my coffee in hotel lobbies, airplanes, and such like places over the years.
In this article, we'll detail the history of these spiced biscuits, their flavour profile, and how they have become a sensation in the desert world. We'll also show you how you can make your own delicious Homemade Biscoff Ice Cream.
If you'd rather, you can scroll to the bottom of the article and go straight to the recipe and method, or read along to find out more.
Biscoff Cookies: Sweet, Spiced, and Oh-So-Nice!
These age-old biscuits have taken dessert lovers by storm, but they're not a newcomer to the scene, quite the opposite.
Biscoff biscuits, also known as Lotus Biscoff cookies or speculoos biscuits, have a rich history that dates back to the early 20th century in Belgium. They were first created in the 1930s by a Belgian baker named Jan Boone.
The name "Biscoff" is a combination of "biscuit" and "coffee" because these spiced cookies were often served with coffee.
The Distinct Flavour of Biscoff Cookies.
The distinct spiced flavour of Biscoff cookies comes from a blend of cinnamon and other spices, which gives them their unique and delicious taste. The traditional shape of these cookies features a design that resembles a windmill.
Biscoff biscuits quickly gained popularity in Europe and later in the United States, where they are sometimes referred to as "airplane cookies" due to their association with in-flight snacks.
In recent years, the familiar flavour has been expanded into various products, including Biscoff spreads, Biscoff ice cream, and even Biscoff-flavoured coffee.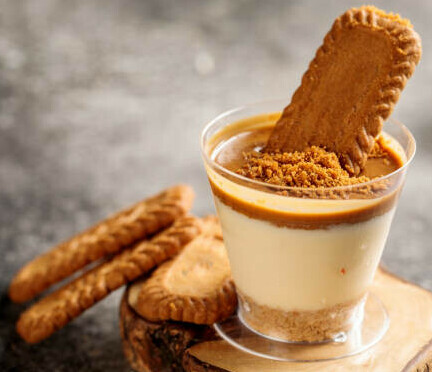 So, while Biscoff cookies have been enjoyed for nearly a century, their distinct spiced flavour has gained popularity in various new forms, making it a much-loved flavour for many, especially in the world of desserts and sweet treats.
Whether you're a cookie-dunker or a snack sneaker, you can't deny the appeal of that distinct Biscoff flavour.
Now, imagine that familiar spiced flavour incorporated into every creamy scoop of homemade ice cream, and you've got the idea.
Our Homemade Biscoff Ice Cream.
Our Homemade Biscoff Ice Cream is a scoop of deliciousness for any day. Whether you enjoy it solo, with a side of Biscoff cookies, or as an accompaniment to your favourite dessert, it's a familiar and delicious frozen treat.
So, grab your cones, bowls, or spoons, and let us show you how you can churn up some Biscoff deliciousness.
Homemade Biscoff Ice Cream Recipe:
Ingredients: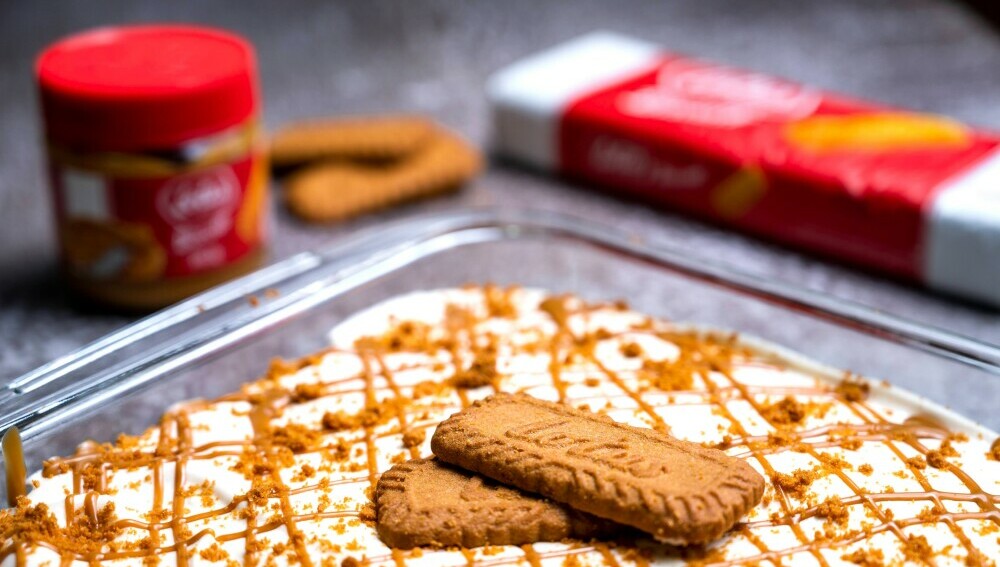 300ml double cream
300ml whole milk
175g Biscoff cookie butter
150g granulated sugar
3 large egg yolks
100g Biscoff cookies, crushed
Instructions:
In a saucepan, combine the double cream and whole milk. Heat until it begins to simmer, then remove from the heat.
In a separate bowl, whisk the egg yolks and granulated sugar until it's pale and slightly thickened.
Gradually pour the cream mixture into the egg yolk mixture, whisking constantly.
Return this mixture to the saucepan and cook over low heat until it thickens, stirring continuously. Make sure it doesn't boil.
Remove from heat, and whisk in the Biscoff cookie butter until well combined.
Let the mixture cool to room temperature, then refrigerate it for a few hours or overnight.
Churn the Biscoff ice cream base in your ice cream maker following the manufacturer's instructions. In the last few minutes of churning, add the crushed Biscoff cookies.

NB: If you don't have an ice cream maker, you can still make this recipe. Pour the mixture into a freezer-safe container and freeze. Every 30 minutes, stir the mixture vigorously with a fork to break up any ice crystals that may be forming, repeating this process for about 3-4 hours or until the ice cream is firm. Please also check out our post – Homemade Ice Cream: Without an Ice Cream Maker – to learn more tips and tricks.

Transfer the ice cream to a lidded container and freeze until it's firm.
Adding Pairings to Enhance Your Homemade Biscoff Ice Cream.
What's a scoop of delicious ice cream without its perfect pairings?
The flavour profile of Homemade Biscoff Ice Cream lends itself to many accompaniments that you can try to enhance the experience even more.
Here is a list of a few of them:
Biscoff Crumbs: Sprinkle crushed or crumbled Biscoff cookies on top for an extra layer of flavour and a crunchy texture.
Hot Fudge Sauce: Drizzle warm chocolate fudge sauce over your Biscoff Ice Cream for a delicious contrast of temperatures and flavours.
Caramel Sauce: Caramel and Biscoff are a perfect flavour match. The sweet, buttery flavour of caramel complements the spiced cookies beautifully.
Whipped Cream: A dollop of fresh whipped cream adds a light and airy element to the richness of the ice cream.
Sliced Bananas: The natural sweetness and creaminess of sliced bananas contrast the spiced flavours and provide a fruity twist.
Chopped Nuts: Chopped nuts like almonds, walnuts, or pecans offer a satisfying textural crunch and an earthy flavour that pairs well with Biscoff.
Berries: Fresh berries, such as strawberries, raspberries, or blueberries, provide a tart and juicy balance to the sweet and spiced ice cream.
Toasted Coconut: Toasted coconut flakes add a tropical flair and a pleasant crunch to your ice cream.
Coffee: Enjoy a cup of coffee alongside your Biscoff Ice Cream. The spiced flavour of Biscoff complements coffee exceptionally well.
Mini Marshmallows: Soft, pillowy marshmallows provide a textural contrast to the creamy ice cream.
Biscoff Spread: Warm Biscoff spread slightly and drizzle it over your ice cream for an extra dose of Biscoff goodness.
Candied Ginger: For a bit of zing, try adding candied ginger pieces to your dessert.
Sea Salt: A pinch of sea salt on top can enhance the overall flavour profile of your Biscoff Ice Cream.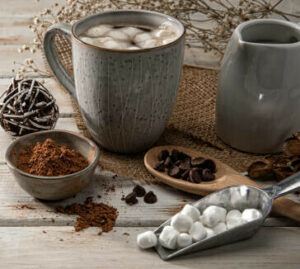 Feel free to mix and match these accompaniments to create your own unique Homemade Biscoff Ice Cream masterpiece.
You can recreate the ultimate Biscoff Ice Cream Sandwich by scooping your homemade Biscoff ice cream in between two Biscoff cookies. And for the caffeine lovers, a scoop of Biscoff Ice Cream with a strong coffee? Well, that's a match made in Biscoff Ice Cream heaven.
Whether you enjoy your ice cream in a cone, a bowl, or as part of an ice cream sundae, Biscoff Ice Cream is a versatile treat that can be personalised to your taste preferences.
We hope you have enjoyed our article sharing with you our recipe for Homemade Biscoff Ice Cream, along with ideas for added mix-ins.
If you have any questions, please drop us a comment below and of course, we would love to hear how you get on with making this Biscoff Ice Cream.