Enjoy the nostalgic blend of creamy chocolate and zesty orange with our Homemade Chocolate and Orange Ice Cream, inspired by the beloved Terry's Chocolate Orange.
You know the scene; You've got a Terry's Chocolate Orange in front of you, the familiar round shape wrapped in orange foil, and with anticipation building, you give it a tap, and the chocolate segments break apart, revealing the delicious chocolate segments within.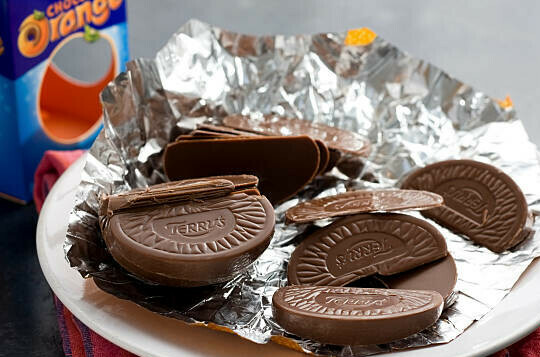 That first bite into the creamy milk chocolate, infused with zesty orange, is delicious, familiar, and truly nostalgic.
In this article, we'll provide some history and background information on the Classic Chocolate treat that is Terry's Chocolate Orange and we'll provide you with a step-by-step guide on how you can also recreate this classic in a Homemade Ice Cream.
You can jump straight to the recipe at the bottom of the article, or read along to find out more.
The Iconic Terry's Chocolate Orange: A Classic with Global Appeal.
Terry's Chocolate Orange is a classic confectionary treat with a rich history dating back to 1932!
This iconic confection, shaped like an orange, is renowned for its delicious combination of smooth milk chocolate and zesty orange flavour.
Over the years, it has become a globally adored treat, with people of all ages savouring its unique taste and enjoying the fun of 'whacking and unwrapping' to reveal its chocolate orange segments.
Terry's Chocolate Orange has introduced several variations over the years, but it's safe to say the Chocolate Orange variety remains the favourite of many around the globe.
Here are some of the variations that have been tried:
Dark Chocolate: A rich and decadent twist on the classic, with dark chocolate enveloping the zesty orange segments.
Mint Chocolate: Infused with cool and refreshing mint flavour, offering a delightful combination of mint and citrus.
Toffee Crunch: Featuring toffee bits for a sweet and crunchy contrast to the smooth chocolate and orange.
Exploding Candy: Filled with tiny candy pieces that "explode" with flavour when you bite into them.
Popcorn: A unique variety that incorporates the sweet and salty goodness of popcorn.
Snowball: Typically released during the holiday season, this version contains white chocolate and other festive ingredients.
These variations provide an intriguing selection of flavours for those who appreciate the classic Terry's Chocolate Orange but are looking for something a bit different.
From Classic Confectionery to Homemade Ice Cream
It's the famous Terry's Chocolate Orange that has inspired our Homemade Chocolate and Orange Ice Cream. This frozen dessert brings this all-time favourite flavour combination to a new level of enjoyment!
We are always looking for new flavour combinations for our ice creams and when Terry's Chocolate Orange was mentioned as being a friend's favourite sweet treat, we thought, why not give it a go in an ice cream format?
Through a bit of dabbling and experimentation, trying to get the balance of chocolate and orange right, we've managed to capture the essence of this iconic treat in our homemade ice cream.
Admittedly, you don't get that same thrill of tapping it and having the segments splay apart, sorry, but you do still get that delicious combination of chocolate and orange!
It's not only about the Nostalgia, there's goodness in this too!
As with all things, moderation is key, and Homemade Chocolate and Orange Ice Cream, when enjoyed in moderation, offers a refreshing combination of flavours with some surprising health benefits too.
Chocolate, especially dark chocolate with high cocoa content, is renowned for its antioxidant properties. It can potentially improve heart health, reduce inflammation, and even enhance cognitive function.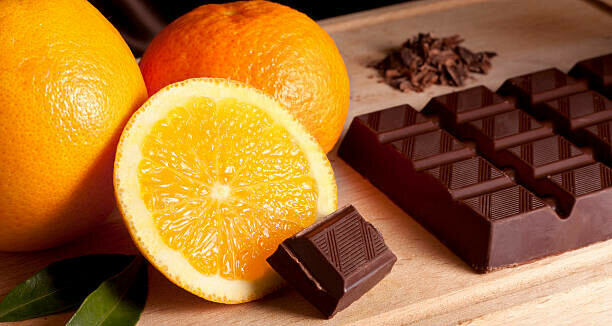 On the other hand, oranges are packed with vitamin C, providing a natural boost to your immune system and contributing to skin health.
When these two ingredients come together in a creamy ice cream, you get not only a tasty treat but also a dessert that provides a dose of wellness with every spoonful.
Now we've learned about Terry's Chocolate Orange and the combining of these flavours in a Homemade Ice Cream, let us show you how you can make your own.
Homemade Chocolate Ice Cream with an Orange Coulis.
Here's our recipe for Homemade Chocolate and Orange Ice Cream with a separate chocolate base and orange coulis. When we make ours, to set the flavours apart we make a chocolate ice cream base and then a separate orange coulis, which we then combine and put in the freezer to set.
This allows you to have a little chocolate if you want, or some of the coulis and then some of both of the flavours combined. Giving you options on how you can enjoy the flavour combinations.
Of course, you might want to swirl the coulis into the chocolate ice cream before it's fully set, as then you get bursts of orange with the chocolate. It's entirely up to you and your taste preferences.
Here are the ingredients and instructions you need:
Ingredients:
For the Chocolate Ice Cream:
300ml double cream
300ml whole milk
100g dark chocolate, finely chopped
75g granulated sugar
3 large egg yolks
1 tsp vanilla extract
For the Orange Coulis:
2 large oranges
50g granulated sugar
Zest of 1 orange
Instructions:
For the Chocolate Ice Cream:
In a saucepan, combine the double cream and whole milk. Heat over medium heat until it begins to simmer. Remove from heat and add the finely chopped dark chocolate. Stir until the chocolate is completely melted and the mixture is smooth.
In a separate bowl, whisk the egg yolks and granulated sugar until it becomes pale and slightly thickened.
Gradually pour the chocolate mixture into the egg yolk mixture, whisking constantly to avoid curdling. Return this mixture to the saucepan.
Cook the mixture over low heat, stirring constantly, until it thickens and coats the back of a spoon. Be careful not to let it boil.
Remove from heat and stir in the vanilla extract. Let the mixture cool to room temperature, then cover and refrigerate it for a few hours or overnight.
For the Orange Coulis:
Zest one of the oranges and set the zest aside. Squeeze the juice from both oranges.
In a small saucepan, combine the orange juice, granulated sugar, and the orange zest. Heat over low heat, stirring until the sugar has completely dissolved.
Simmer the mixture for about 10-15 minutes, or until it thickens into a coulis consistency. Remove from heat and allow it to cool completely.
Assembling the Ice Cream:
Churn the chocolate ice cream base in your ice cream maker following the manufacturer's instructions.

NB: If you don't have an ice cream maker, you can still make this recipe. Pour the mixture into a freezer-safe container and freeze. Every 30 minutes, stir the mixture vigorously with a fork to break up any ice crystals that are forming, repeating this process for about 3-4 hours or until the ice cream is firm. Please also check out our post – Homemade Ice Cream: Without an Ice Cream Maker – to learn more.

In the last few minutes of churning, pour the orange coulis into the ice cream machine to create swirls or ripples of orange throughout the chocolate ice cream.
Transfer the ice cream to a lidded container, alternating layers of ice cream and remaining orange coulis.
Freeze the ice cream for a few hours until it's firm.
Serve the ice cream in scoops, and enjoy the option of separate chocolate and orange flavours or a delicious combination of both.
This Homemade Chocolate and Orange Ice Cream is a delicious representation of the classic Terry's Chocolate Orange.
We hope you have enjoyed our article discussing all things Terry's Chocolate Orange and our transformation into a deliciously nostalgic Homemade Ice Cream.
If you have any questions, please feel free to drop us a comment below and we would love to hear from you if you do give this recipe a go.