Chill out with a boozy twist – learn how to make Zesty Vodka and Orange Sorbet at home. A refreshing, adult treat!
What could be better than a scoop of Vodka and Orange Sorbet? This is a delicious concoction that combines the refreshing, zesty flavours of fresh oranges with a hint of vodka's adult sophistication.
It's a great way to beat the heat or any weather for that matter and enjoy a grown-up twist on a classic beverage, but in a frozen style.
In this article, we'll talk about the flavour combination of Vodka and Orange and why these two flavours fuse so well, and of course, we'll provide you with step-by-step instructions on how you can whip up a boozy homemade Vodka and Orange Sorbet right in your own kitchen.
If you prefer, you can scroll down to the bottom of the article, straight to the recipe and method.
The Classic Combo of Vodka and Orange.
Vodka and orange: a classic and refreshing cocktail, often referred to as a screwdriver, that brings together the clear, smooth taste of vodka with the citrusy zing of orange juice.
It's an easy-to-make and versatile drink that appeals to many. Simply mix your preferred vodka with freshly squeezed orange juice over ice, optionally adding a slice of orange for an additional citrus burst of flavour and you've got a delicious combination that strikes a perfect balance between sweetness and a hint of warmth from the vodka.
Vodka and orange is a timeless choice for those who appreciate a simple, yet satisfying, beverage.
And don't forget, whilst enjoying your cool, smooth and refreshing Vodka and Orange, those oranges also pack a healthy punch! Bursting with vitamin C, antioxidants, and a dash of natural sweetness, this combo might just be the sneakiest way to get your nutrients while you toast to good times.
Vodka and Orange Sorbet: A Spirited Citrusy Zing in Every Scoop!
When you combine vodka with orange in a sorbet, you're elevating the classic cocktail into a refreshing frozen treat that adds a whole new layer of enjoyment to the palate.
The frozen texture adds a playful twist, making it a perfect choice for a cool indulgence. Each spoonful brings a burst of icy goodness that complements the familiar taste of vodka and orange, offering a unique and satisfying way to enjoy this much-loved combination in a frozen form.
It's a spirited dessert that captures the essence of the classic cocktail while inviting a refreshing chill to the taste buds.
Boozy Homemade Vodka and Orange Sorbet.
We are always seeking new and unique flavour fusions to try out in our ice cream and sorbet recipes and we think this combination of Vodka and Orange works best as a sorbet, giving a refreshing and light twist to these familiar flavours.
Here's our easy recipe and instructions for you to follow:
Ingredients:

4 cups freshly squeezed orange juice (about 8-10 oranges)
1 cup granulated sugar
1/2 cup water
1/4 cup vodka (adjust to taste)
Grate some orange zest to add for an even more citrusy burst (optional)
A few slices of orange to garnish (optional)
Instructions:
Prepare the Simple Syrup:
In a small saucepan, combine sugar and water.
Heat over medium heat, stirring until the sugar completely dissolves.
Remove from heat and let it cool. This is your simple syrup.
Mixing the Sorbet Base:
In a mixing bowl, combine freshly squeezed orange juice and the cooled simple syrup.
Add vodka to the mixture and stir well. Adjust the amount of vodka based on your preference.
Chill the Mixture:
Cover the bowl and place it in the refrigerator to chill for at least 2-3 hours, or overnight for the best results.
Churning the Sorbet:
Pour the chilled mixture into an ice cream maker.
Churn according to the manufacturer's instructions until it reaches a sorbet consistency.
Freezing:
Transfer the churned sorbet into a lidded container.
Freeze for an additional 2-3 hours to firm up.
Serve and Enjoy:
Scoop into bowls or cones, and garnish with a twist of orange zest if desired.
Pour a little extra vodka over the top for an adult-friendly kick.
Optional Extras for your Vodka and Orange Sorbet.
This combination of flavours; Vodka and Orange pairs very well with many other ingredients and you can use one or some of the following to add a little extra texture and flavour to your Vodka and Orange Sorbet:
Citrus Cocktail:
Create a citrusy cocktail by mixing equal parts of lemonade, lime juice, and a splash of soda. Serve alongside your sorbet for a burst of refreshing flavours.
Minty Fresh Twist:
Garnish your sorbet with fresh mint leaves or create a mint-infused simple syrup to drizzle over the top. The minty aroma will beautifully enhance the orange-vodka combination.
Basil Berry Delight:
Pair your sorbet with a mixed berry salad topped with a balsamic basil glaze. The sweet and tangy berries complement the zesty orange sorbet.
Coconut Cream Dream:
Serve your sorbet with a side of coconut cream. The creamy coconut flavour adds a tropical touch to the citrusy goodness of the sorbet.
Almond Crunch Joy:
Sprinkle toasted almond slivers over your sorbet for a textural crunch. The nutty flavour of almonds pairs well with the citrusy notes of orange and vodka.
Dark Chocolate Indulgence:
For a decadent treat, pair your sorbet with small pieces of dark chocolate. The rich cocoa flavour complements the citrusy sorbet beautifully.
Vanilla Elegance:
Create a simple vanilla bean sauce to drizzle over your sorbet. The smooth vanilla flavour adds a touch of elegance to the vibrant orange and vodka combination.
Prosecco Fizz:
Turn your sorbet into a lively float by placing a scoop in a glass and topping it off with Prosecco. The effervescence adds an exciting fizz to each bite.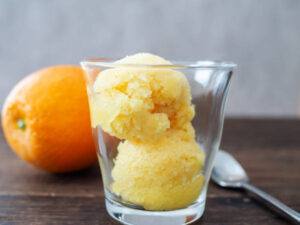 You can play around with these additional flavour pairings, experimenting with them to find what works best for you and to elevate the experience of your Vodka and Orange Sorbet!
We hope you have enjoyed our article learning about the flavour pairing of Vodka and Orange and also learning how you can also make this deliciously, boozy homemade Vodka and Orange Sorbet.
Please drop us a comment below if you have any questions and of course, we would love to hear from you if you give this recipe a go.